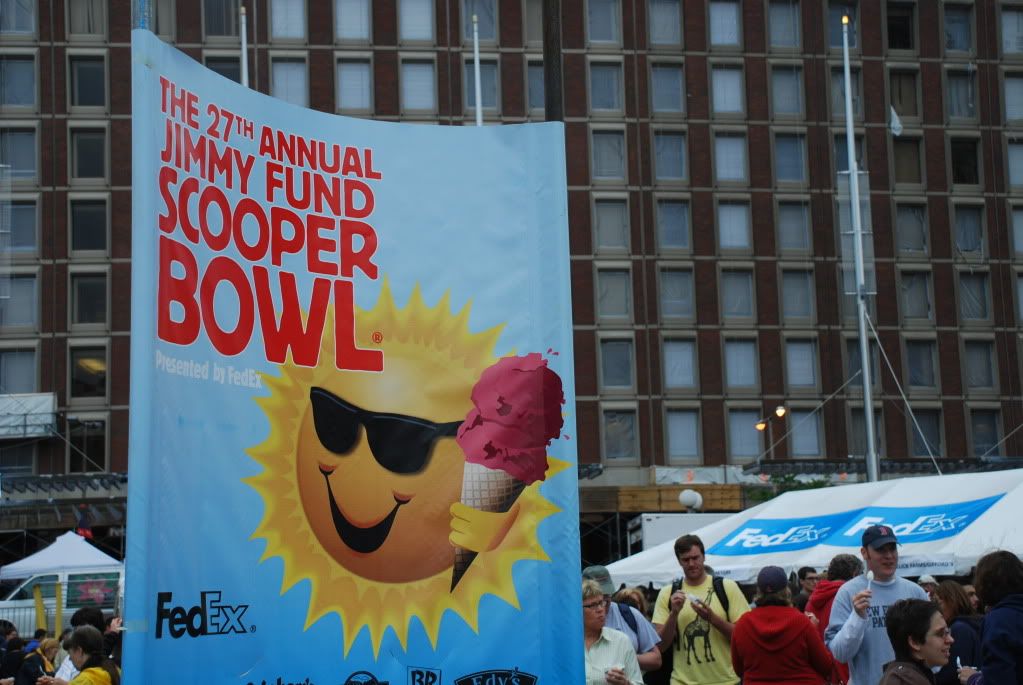 Today is the last day of the
Scooper Bowl
for the year. It seems like it was only yesterday we were anticipating the month of June in excitement for one of our favorite events of the year, and now, like another birthday, it has quickly come and gone.
Scoopalicious made it over to the event yesterday. Though the weather was downcast (but not raining) the crowds were unbelievable. I thought that the impending weather might keep people away and make it a more accessible day for us to "report" back, but Tina thought maybe because the weather in Beantown was downright awful, that yesterday's crowd came today.
Either way, we had a good time, and enjoyed the company of each other as well as our friends Alouette and Steve (a.k.a.
Spaghetti
) and ate ice cream until we were sick!
Here are the flavors we got to choose from...
Baskin-Robbins®
(This was the second stop so we actually tried them all!)
Cotton Candy.

Yum, Tina and I both liked this one. What are we? Thirteen?



Rock 'n Pop Swirl.

Pop Rocks in ice cream, I guess. I thought they were Nerds because they didn't pop, and the ice cream tasted grape. First grape ice cream I ever had. Not a huge fan.



York® Peppermint Pattie.

Tina and Alouette loved this one. Me? Too minty. I am not a fan of anything too minty.



Premium Churned Light Raspberry Chip.

Very good. Love the chocolate and raspbetty combo, but particularly liked the swirls of raspberry sauce throughout.



Orange & Cream.

I don't remember this being an option.



Oatmeal Cookie Chunk.

Yum. Tina, Alouette and I were all big fans. Tina liked the fact that the chunks were chocolate, not raisins.



Chocolate Macadamia.

Did not try.



Goodbye Yellow Brickle Road. I really liked this. Tina wasn't as impressed. Our big question of the day? What is brickle? Answer: Practicallyedible.com describes butter brickle as: "It's small, shattered, crunchy pieces of golden-brown coloured, buttery-tasting hard toffee, which are also sometimes sold as "toffee bits." Ben & Jerry's site says Goodbye Yellow Brickle Road is "Chocolate Ice Cream, Peanut Butter Cookie Dough, Brickle Candy Pieces, & White Chocolatey Chunks." I tasted the chocolate and what I thought was brickle, but did not taste the white chocolate or peanut butter chunks. Tina tasted the peanut butter cookie chunks, but took them to be peanut butter cups.

Breyers®
(Did not try any of them. By the time we got there we were too full! Sorry, Breyers!)
Vanilla
Coffee
Cherry Vanilla
Cookies & Cream
Vanilla
Chocolate
Confetti & Cream.

Brigham's Cake Batter. Very good. Why do so many cake batter ice creams have blue icing swirled in? Tina says it is to appeal to the kids. She's probably right.



Black Raspberry Frozen Yogurt
Coffee
Take the Cake.

I love all cake batter ice cream. This one fit the bill!



Mint Chocolate Chip
Low Fat Caramel Praline Crunch Frozen Yogurt
Chocolate
Old Fashioned Vanilla
Mint Chocolate Chip Yogurt
Maine Lobster Tracks.

I wasn't thrilled with this, but Steve loved it.



Zesty Lemon Sorbet
Chocolate
Bailey's® Irish Cream.

I don't like liquor flavored anything. This, however, was amazing. Wow.



Vanilla Honey Bee.

We had vanilla. Was it Vanilla Honey Bee? Either way, it was wonderful. Man, Haagen Dazs is the creamiest ice cream there is. Hands down. Um, could Haagen Dazs be any more of a pain to spell correctly though?!



New England Lighthouse Coffee
Cookie Dough Delight.

I did not try this one. Tina did. She thought it was good, but again, there were so many and it wasn't among her favorites

.

Fenway Fudge.

Another one of our favorites of the day!



Maine Blueberry & Sweet Cream Frozen Yogurt.

I love blueberry ice cream. I don't know how I missed it. But I think I may have had this before and it was yummy when I did!



Amaretto gelato
Dulce de Leche gelato
Chocolate gelato
Chocolate Chip gelato
Crema Café gelato
Lemon sorbet
Coconut sorbet
Mango gelato.

Alouette said this tasted "flowery." I had a taste and could see why she would say that.



Raspberry gelato.

This was good, but not particularly anything I would write home about. Ok, really, I don't actually write home much about ice cream -- if they want to know, they read my blog -- ok, I guess I wouldn't blog home about it either.



Zabaglione gelato
I hope I didn't miss anything, but between the sugar high and all...I can't say that I remembered everything. I think of the Scooper Bowl as kind of the pub crawl of ice cream -- you know you enjoyed it, but can't exactly remember why.
One thing I just wanted to mention, just in case you forgot, was that the Scooper Bowl is $8 for all you can eat. It's a pretty good deal.
But
if you need more convincing, consider it your good deed for the day. All proceeds go to the Jimmy Fund. Want to
learn more about the Jimmy Fund and it's history
?
Mass Moments
by
Massachusetts Council for Humanities
has a nice summary
here
. And for all of you Massachussettsians, Mass Moments is a great daily email that sends some little known facts about, um, Massachusetts. Kind of fun!
In closing, here are some pictures...
But hey, stop reading and looking at our pictures and get to the Scooper Bowl -- last day is today, Thursday, June 11, from 12-8pm.